Dominican pancakes with mozzarella and cherry are absolutely amazing. Both adults and children love this simple dish.
Cherries contain flavonides that are a type of antioxidant. They fight free oxygen radicals and therefore counteract premature aging.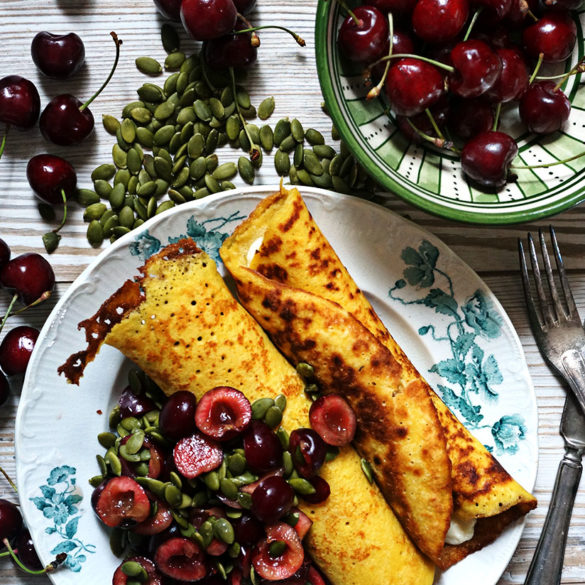 Ingredienser
198 grams of corn (small can of corn)

2 dl milk

3 dl corn flour

2 eggs

2 pieces of Mozarella

200 grams of cherry

50 grams of pumpkin seeds

3 pinch sea salt

Rape oil for frying
GÖR SÅ HÄR
The pancakes / corn cakes
Mix, egg and corn using a mixer

Add corn flour, milk and salt and mix to a smooth batter
Fry the pancakes of the batter in a little rapeseed oil
When the pancake got color on both sides, put half a mozzarella (spread over the pancake)
Roll the pancake and fry the next
Salad
Bring a dry frying pan and fry 50 grams of pumpkin seeds with 2 pinch sea salt

Remove the cherry core and split the cherry
Mix the pumpkin seeds together with the cherry
Serve!