Becoming a vegetarian sometimes means choosing to refrain from things that are insanely tasty. For me that means  salmon. That's why I became extremely happy when I realized that you could use carrots instead of salmon . Super Happy!
Carrots are packed with beta carotene, alpha carotene and lutein that are good for your heart and can counter heart disease such as heart attack and high blood pressure.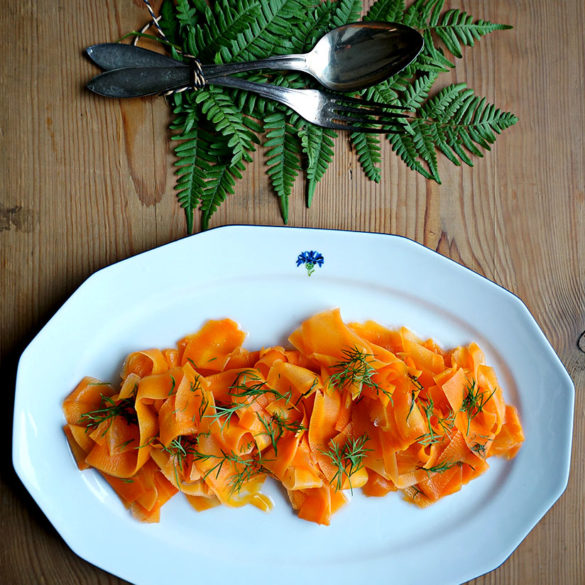 Ingredienser
6 pieces of large carrots

1 bunch of dill

10 pieces of white peppercorns

2 dl sugar

1 dl vinegar

Sea salt
GÖR SÅ HÄR
Carrots
Slice the carrots into diagonal slices. (use a potato peeler or mandolin)
Fill a pot of water and a little salt
Let the carrots boil for 6 minutes
Marinate
Boil 3 dl water with 2 dl sugar, 1 dl vinegar, one bunch dill, 10 white peppercorn and salt (2 min)
Vegan dill-cured "salmon"
Drop the sliced and boild carrot into the marinade
Cover the carrots  with plastic or foil and leave in fridge to the next day
Serve with fresh dill