Who doesn't love pizza? This pizza is insanely tasty and fantastically beautiful. Completely irresistible in both its appearance and in its flavors of chickpeas and  lemons.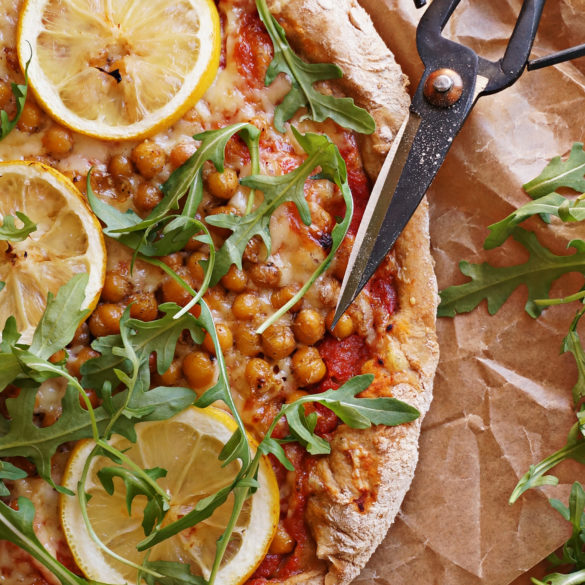 Ingredienser
25 g yeast

2.5 dl water

150 g Italian durum wheat flour

250 g graham flour

1 teaspoon saltt

0.5 dl olive oil

1 can of chickpeas

1 sliced ​​lemon

2 dl grated cheese

1 clove of garlic

1 yellow onion

1/2 red chili

1 jar crushed tomatoes

Arugula for garnish

Salt, pepper, cumin
GÖR SÅ HÄR
Pizza dough
Stir the yeast into finger warm  water (37 degres celsius).
Add  flour, a little at a time, salt and oil and knead by hand for about 10 minutes, in a machine for about 5 minutes.
Let the dough rise covered for about 30-40 minutes until double in size.
While the dough is rising, prepare the chickpeas and tomato sauce
When the pizza dough has finished fermenting, roll out the dough to the desired shape / shapes.
Oven-roasted chickpeas
Heat the oven to 200 degrees.
Rinse your chickpeas with water and then let them dry on  kitchen paper.
Place the chickpeas on a baking sheet with parchment paper and season with salt, pepper and cumin.
Roast the chickpeas in the oven for 15 min
Tomato sauce:
 Add a splash of olive oil to a thick-bottomed saucepan
Chop the garlic clove, the yellow onion and half a red chili fruit and fry in the saucepan
Add finely crushed tomatoes, salt and pepper.
Leave to simmer for  5 min.
Now it's time to spread the tomato sauce on the pizza, and sprinkle over the cheese the chickpeas and last but not least the sliced ​​lemons. Bake in the oven at 225 degrees for about 10 - 15 min When the pizza is ready, sprinkle with ruccola.